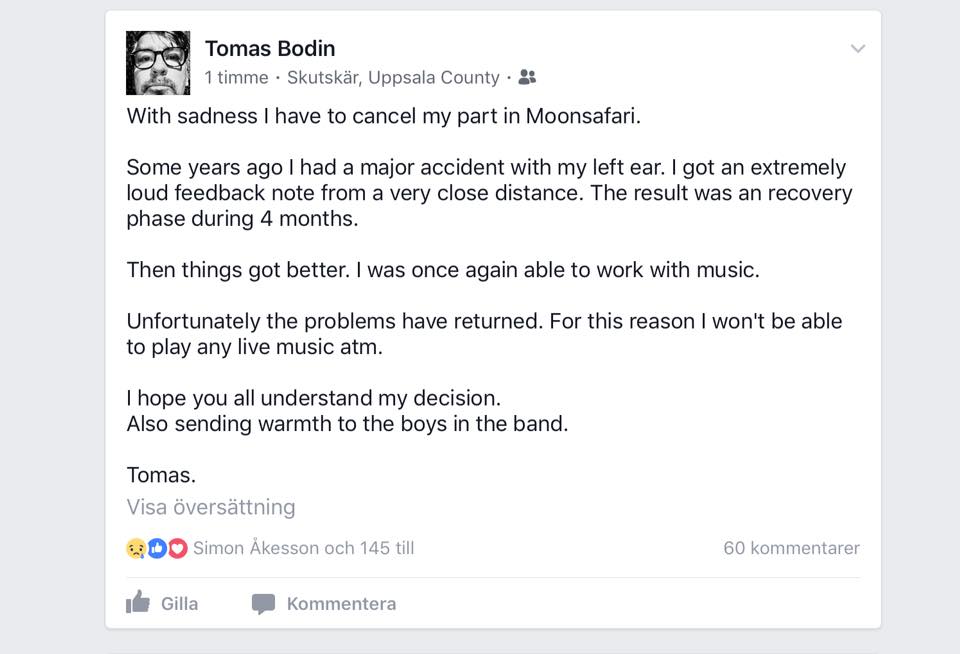 Bad News, Good News
Simon Åkesson returns to the line-up as Tomas Bodin is forced to cancel CTTE 2018 performance with Moon Safari.
Regrettably, Tomas Bodin is forced to cancel his planned participation on next years Cruise to the Edge festival. His tinnitus has been acting up (see announcement below) and it's become a problem to the point where he's now forced to take a break from live music performance. We both understand and support his decision and we wish him all the be…st in his recovery. We would also like to thank him for agreeing to help us out in the first place, he is and will remain one of Moon Safari's closest friends and we hope to work with him more in the years to come.
The silver lining in all of this is that Simon's situation has stabilized, and he's ready to play. He's still taking things slow but he's making steady progress and he's really positive about the future. This is of course wonderful news for both the band and the fans, as there's just no better replacement for Simon Åkesson than Simon Åkesson. Welcome back to Heaven Hill, Simon!
We realise there have been some soap opera type twists and turns in Moon Safari lately. And we can't promise it'll all be smooth sailing from here on out. Well, hopefully on CTTE at least. But we'll try to be more active with updating you on the progress of Himlabacken Vol. 2 and the band in general in the coming months, and we thank you for your patience!